Immune Boost Remedy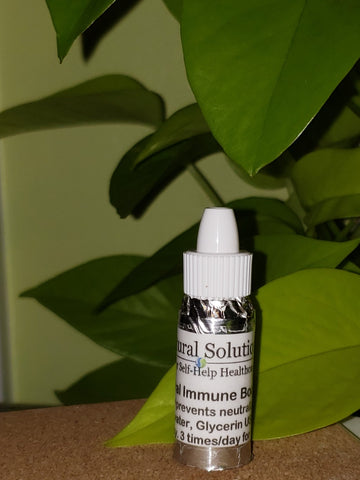 ...........

Widely believed to be the leading all natural remedy for Boosting the Immune System. Bioenergetics move quickly past the blood brain barrier to enter the system bypassing the digestive system. This remedy may be indicated in your self-help healthcare program for imbalances similar too...

Anti-Oxidant, Anti-infection, and Anti-bacterial

Reduces inflammation

Reduces cold, dis-ease, so-called bugs and respiratory imbalances

Reduces mucus, phlegm and runny nose
In holistic medicine, the Spleen  is the Master of Immunity. This remedy can stimulate the bodies systems to provide the right environment to facilitate improved health or healing. Building up the immune system and prevention using barrier, avoidance and preparation are the keys to staying healthy through this pandemic.
This is for people who are concerned with getting ill or sick, but do not want to be afraid to protect themselves and their families naturally.  Healthy bodies do not succumb to foreign pathogens that attach like virus or bacteria. Keep your life holistic.
Contains a propriety blend of bio-energetic self-help remedies that may improve immunity as traditionally known in the natural community.  Includes an energetic vibration of Echinacea purpurea, Golden Seal, Vitamin C, and Zinc. Contains purified water and food grade vegetable glycerin, frequency and other natural ingredients.
Wrapped in foil to prevent exposure to harmful radiation and EMF, this remedy goes beyond the normal herbal to a deeper energetic shift. 
Size - .2 ml, 100 Drops
Small - .1 ml, 75 Drops
Instructions- Gently screw off cap, keeping the foil in place. Place one drop under your tongue every three hours for three days. Squeeze and release the bottle. Then take one drop in the morning and one drop in the evening for two weeks. Also, take one drop before and after exposed to large crowds or persons who appear to be ill. If there is any reaction to the remedy, please discontinue use immediately and consult your doctor.
Shipping Fast & Free
NOTE: Please consult your doctor before beginning any herbal, homeopathic or supplement. These statements have not yet been verified by the FDA. For Private Self-Help Healthcare Club members only. Purchase implies informed consent. Must be 18+ to buy.
#anaturalsolution #drvspencer #immunehealth #respiratory #noseandmouth #wellness #healthy #cbd #healthpractitioner #breath #lunghealth #china #detox #protectyourself #eathealthy #immunity #herbs #goldenseal #Echinacea